I read a while back that Jay-Z owned part of the Ace of Spades label that he touted in 2 "Kingdom Come" songs.

But I didn't believe it, considering the fact that he didn't have even part ownership of hundreds of brand names he's name checked in his songs.

But then I read this People.com blurb: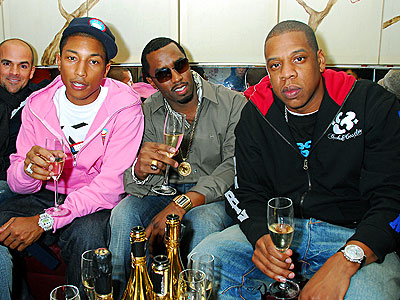 IT'S BUBBLICIOUS
Pharrell Williams, Sean "Diddy" Combs and Jay-Z gather for a champagne toast (of Z's very own brand, Ace of Spades) to celebrate Pharrell's 34th birthday at New York's Lower East Side eatery The Stanton Social on Thursday. Also on the celebratory agenda: paying homage to singer-songwriter Robin Thicke, who just received his first platinum album.
So...he does own it? If so, that'd be a smart business move, to go from a heavily publicized champange that he didn't see a profit on (Cristal), to one that he did. The owners of the Ace of Spade wine said that you could lauch a champange not popular in the US with the help of a rapper, like Jay, and I guess they were right.
Jay's part-ownership portfolio keeps kind of dwindling (he sold his portions of Rocawear and Rocafella for nice amounts though), so I guess this is a good thing to add, if this even is the case