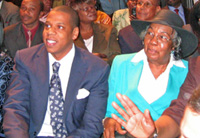 Gloria Carter, (watched by son Shawn "Jay-Z" Carter and family and friends above), received a proclamation at City Hall from the City Council for her "outstanding contributions to the community."
Honored by Queens Councilman
Thomas White Jr
for overseeing the Shawn Carter Scholarship Fund, which is a college-focused charity.
In addition, in 2005, she and other staffers from the fund went to Houston to help distribute clothing, food and toiletries to displaced Hurricane Katrina victims. The proclamation was given to Ms Carter at the start of Wednesday's meeting in the Council Chambers at City Hall.