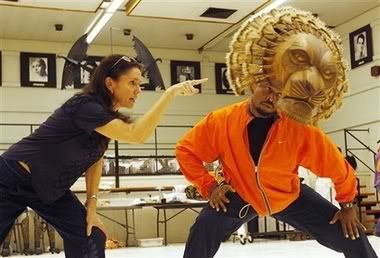 Julie Taymor instructs a South African actor during a rehearsal of the Lion King at Pretoria's National Theater in Pretoria, South Africa, March 24, 2007.
Highlights from a recent article:
This first production with an all-South African cast, some new costumes, choreography and songs promises to make as big an impression on the continent's performing arts scene as the theatrical adaptation of Disney's animated film did when it opened on Broadway 10 years ago.

"To be in South Africa for this production has been the realization of a dream 10 years in the making," director Julie Taymor said. "As `The Lion King' expanded beyond Broadway, I knew it had to keep its roots firmly in South Africa and ... I am proud to say that now, we have brought the show home."

The new African home for "The Lion King" is the specially built Teatro at Montecasino, which has a capacity of about 1,800 ("There wasn't anything large enough in Africa," Taymor said) at a hotel, casino and shopping complex in Johannesburg. It cost nearly $14.5 million. The show officially opens June 6 (preview performances begin May 22) with tickets costing 175 to 375 rand, about half the Broadway and London prices of around $50 to $120.

It's a professional homecoming for Lebo M., the South African Grammy-winning composer and arranger who will celebrate his debut as a commercial producer with the new production. In partnership with South African theater impresario Pieter Toerien, more than $10 million has been invested, Lebo said.